Team History
Club hockey at Yale University began in 1958 when a group of young men joined together to form a team called the "Urps." However, this team folded shortly thereafter and any information regarding their schedules or opponents is unknown. Much later in December 2003, the club hockey team was reinstated at Yale after an absence of 44 years. Practicing began in January 2004 and the team competed in its first game on February 7 at Princeton (L 2-10). The first season consisted of 5 games played over the span of 3 months (February, March and April) and the team finished 3-2-0.
Yale club hockey embarked on its first full campaign in October 2004. The team won its first game of the season, a 9-3 victory over Columbia that served as retribution for a 6-7 OT loss to the Lions the prior year. During the 2004-2005 season, the team would play 10 games, including contests against new opponents Coast Guard, UConn, UPenn and SCSU. An impressive 3-2 victory over UConn at home ended the season and the team finished 4-5-1.
2005-2006 marked Yale club hockey's first full winning season at 7-4-0. The season was highlighted by two come-from-behind OT shootout victories against Columbia (W 6-5) and Babson (W 3-2). Both of these wins came on the road. The team's four losses came against only two opponents: Fairfield and Fordham. Two of these four games went to overtime.
In the 2015-2016 year, Yale club hockey won the Metropolitan Collegiate Hockey Conference (MCHC) and took 2nd place in the Ivy League Tournament.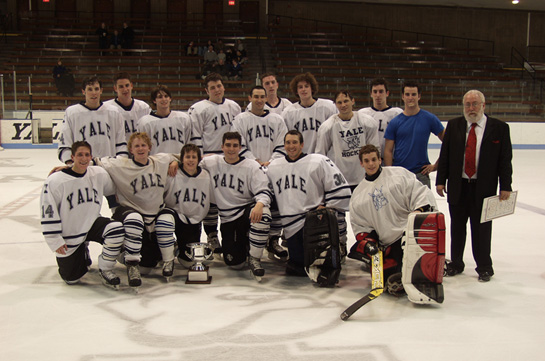 Yale Club Hockey in 2007